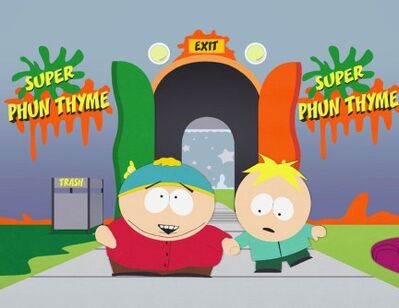 Random Notes
Edit
Butters and Cartman have a Super Fun Time at Super Phun Tyme! Criminals have done the worst thing of all - They robbed a Burger King!
While Pioneer Paul came to Colorado in 1864 with his mom and pop, which means he was a child, he welcomes the children to 1864 short after that, which doesn't make sense. It would mean that Pioneer Paul should be a child at that point in time. This could, however, be meant as a joke.
At the Super Phun Thyme, there is a "special" for 2 kids for $12, although the normal admission price for a child is $6. Chances are this is a joke as well.
When looking for a partner Cartman, accidentally calls Clyde, Craig.
Near the start of the episode, Pioneer Paul calls Smithy, Chad. Later on, Smithy's name is David Palmer as noted on his file sheet.
Wendy's voice sounds like Stan's voice when they are hiding behind the wooden crate.
Before the pioneer village worker was shot he said the code began with 5 and then 2 when the code was actually 1864. However the worker says it began with 1 in reruns.
Stan says he came from Pagosa Springs, which wasn't founded until after 1864. However, it is most likely that he doesn't know this.