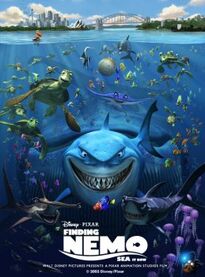 Random film info
Edit
Nemo is kidnapped by some guy.
Eggs appear from nowhere wher Marlin and Coral are looking.
The zip-lock bag changes into a regular bag.
Dory's scars disappear.
Bloat moves inbetween shots.
The poster at the dentists' moves between shots.
Subliminal messages
Edit
References in other media
Edit
In a simpsons episode Milhouse discovers the first scene of Nemo, where you see Nemo's mother. Bart and Milhouse are very shocked. Bart doesn't believe it.
In "Jump for Joy" Catelina sayss Joy's eyes are too big for her head, like finding nemo.