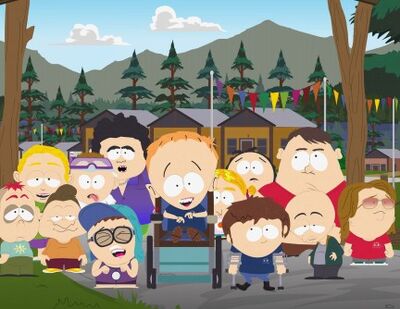 Random episode facts
Edit
Towelie needs to give up drugs. His addiction is getting too serious. Mimsy needs to make his team beat Jimmy's.
On the blackboard for the events of the camp competition, the events are listed in this order: Swimming, Archery, Scavenger Hunt, 50 Yard Dash, 3 Legged Race, Bear Hunting, Basketball, Surfing, Canoe, and Talent Show and yet when the scores are posted, the canoe score is empty even though it was first event.
In one of the text transitions it stated that the 3 legged race was one of the blue team's best events, However, on the blackboard, it shows that they lost to the red team in that event. It is possible that The Red Team was simply lucky enough to beat The Blue Team.

Jimmy is shown being able to surf in this episode, even though his legs don't function properly. He was also showed standing without crutches in the singing contest. This is a joke, but does count as a goof.
Jimmy is able to sing without stuttering in this episode, even though in previous episodes, like where he sings the 12 Days of Christmas, he has a terrible problem with stuttering while singing. Jimmy could have possibly just gotten better control over his stuttering.
When The Elmer Fudd Kid yells, " YEAH!!! ", his voice changes from an Elmer Fudd sounding one to a normal child's.